 About Taiwan Leisure Farms Development Association
Taiwan Leisure Farms Development Association is a non-profit organization founded in 1998 in accordance with Civil Associations Act with a goal to give assistance to upgrade of farming development into leisure farming and construct LOHAS villages. The association plays a role as bridge among academia, government, and industry, and bears a mission of leisure faming development. At the time of promoting development of farming economy, the association also bears responsibility of social education and environmental protection in hope that social stability of village, sustainable development of village, and more social value can be achieved. Through the association, we lengthen the value of village, share knowledge, and inherit power of happiness in hope that Taiwan farming can be shaped into living space fitting tourism and residence for youth to return and root in hometown, farmer can retrieve dignity, and village culture can go on. Everyone is able to "Enjoy leisure and experience felicity".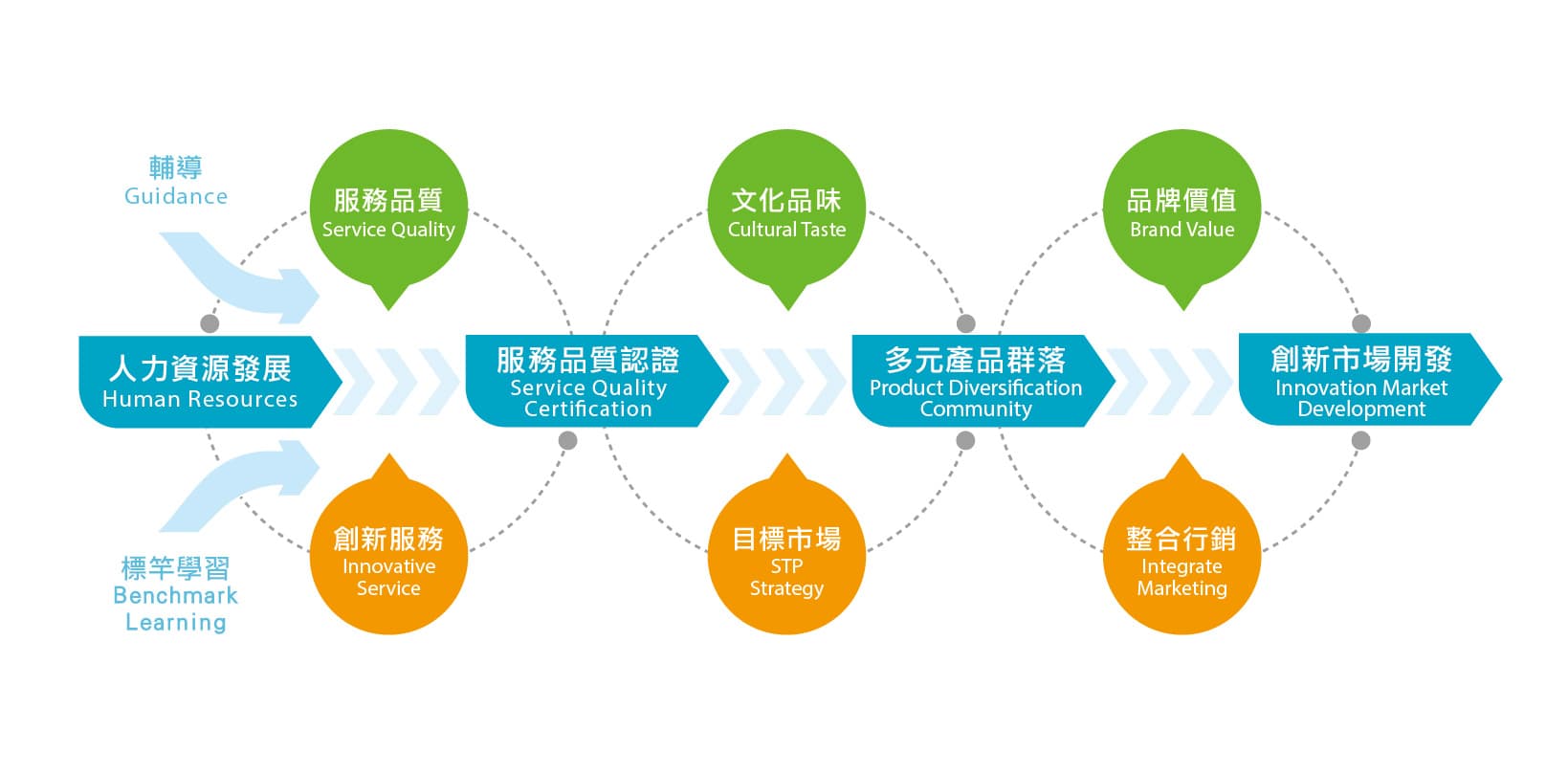 The main body in Taiwan Leisure Farms Development Association is the Members. The Board of Directors makes all the decisions, the Acting CEO will oversee the plan and Secretariat to implement accordingly. Tasks of Secretariat is to enhance quality service, a taste of culture and to create brand value through its promotion of 'quality, taste, brand', to carry the 4 Must-Have values of 'production, livelihood, ecology and life' of leisure farms. The organization Departments are: I. Department of Integrated Affairs: In charge in the management of the Secretariat. It constructed the www.taiwanfarm.org.tw as a platform for exchange and sharing of knowledge and experience on leisure agriculture. II. Department of Human Resources: Established the Taiwan Leisure Farms Academy ( https://pse.is/3hcr59 ), and is responsible for promoting certification and accreditation of leisure farm project managers, and the incubation of managerial talents. III. Department of Special Agro-tourism Spots Certified: Aimed to promote Special Agro-tourism Spots Certification ( https://pse.is/3gfmzq ), and constructed distinctive and high-quality brand of agro-tourism affairs. IV. Department of Agro-tourism: Intergraded the products of leisure farms around Taiwan to construct the e-commerce platform— Farm Market: www.taiwanfarm.com.tw V. Department of Global Marketing: Responsible for new products R&D, developing international tourism markets, established multilingual website— Gogo-Taiwan Farm ( https://www.gogo-taiwanfarm.org/ ) and to 'construct Taiwan for global promotion' from a global localization perspective.