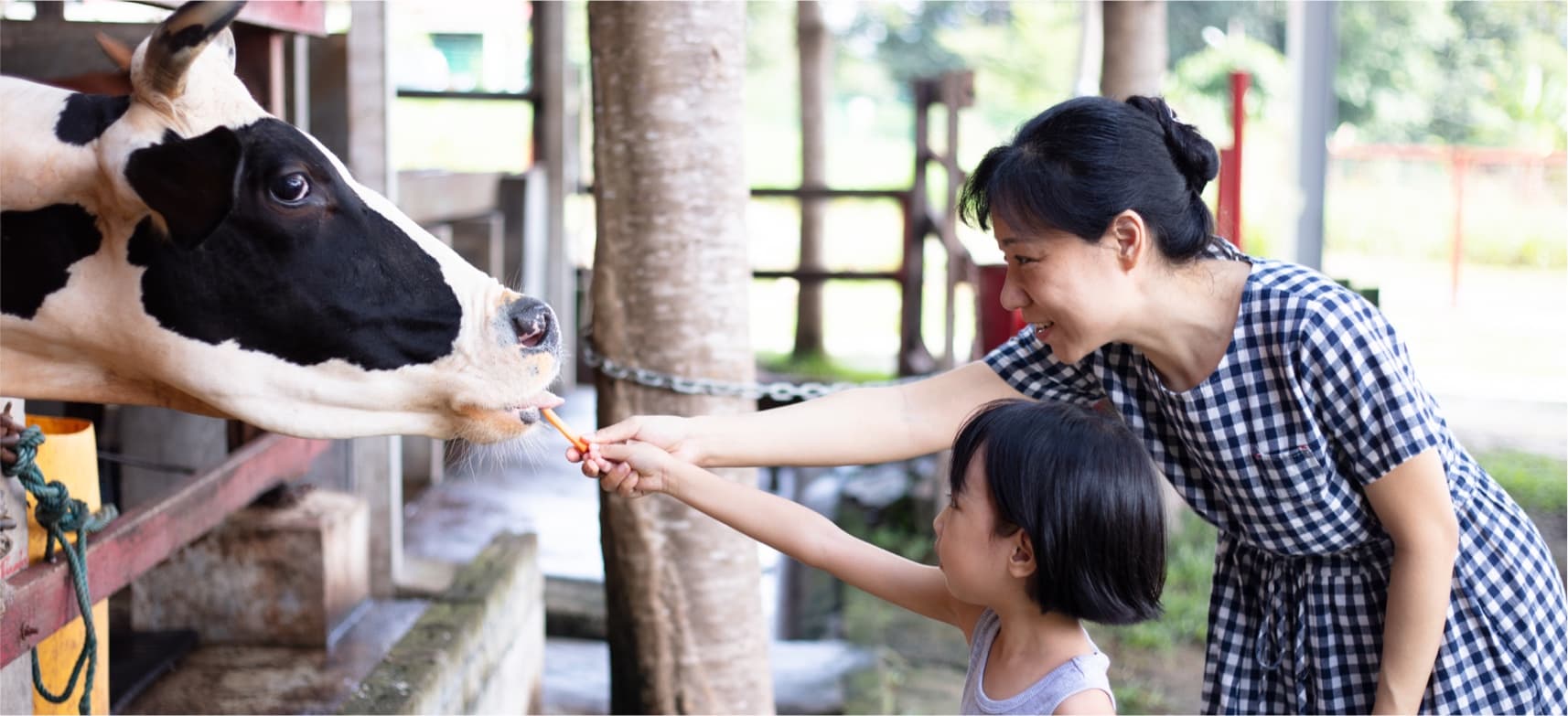 Livestock Tour
How wonderful it would be if we can wake up on a pasturage in the morning, breathe pure air in an environment embraced by the great nature. Let us ramble about the vast and majestic grasslands or through the rolling mountains to relieve stress that comes from different aspects of your day to day.
Dairy farming is also called "national defense agriculture". A country does not have to worry about protein shortages caused by blockade and warfare as long as pastures, cattle, and sheep remain in existence. Furthermore, flocks and herds care only about grazing grass that they do not give a rap for human foods, not to mention that the derivative dairy products can even be processed and made into every kind of merchandise including cheese and etc.Therefore, the development level of dairy farming is often being regarded as the indicator to measure the achievement in civilization and economy of a country.
In addition to raising cattle and sheep, pig husbandry, goose and duck, layer, and etc., various types of leisure ranches spread across the nation along with the booming development of the stock farming of Taiwan. One is able to interact with sheep animals in Yilan, milk the cow and eat cheese in Miaoli, feed the cows with milk and make intimate contact with gigantic animals in Chiayi to experience the endless joy brought by these parent-child activities. You can also visit Hualien and Taitung for enjoying the extensive prairie pasture while appreciating the picturesque scenery composed of flocks and herds.
Having Fun with Domestic Animals
TEL:+886-3-956-7724 ADD:No. 17, Ln. 239, Changchun Rd., Dongshan Township, Yilan County, Taiwan
TEL:+886-3-426-6987 ADD:No. 1-5, Ln. 382, Sec. 3, Minquan Rd., Zhongli Dist., Taoyuan City, Taiwan
TEL:+886-3-580-1000 ADD:No. 20, Neighborhood 7, Dahu Vil., Beipu Township, Hsinchu County, Taiwan
TEL:+886-37-584-743#1 ADD:No. 9-6, Dongqiding, Neighborhood 12, Qiding Vil., Zhunan Township, Miaoli County, Taiwan
TEL:+886-37-931-264 ADD:No. 14-1, Neighborhood 11, Yongxing Vil., Shitan Township, Miaoli County, Taiwan
TEL:+886-037-782-999 ADD: No. 166, Nanhe Vil., Tongxiao Township, Miaoli County, Taiwan
TEL:+886-4-786-9703/br> ADD:No. 13, Aly. 13, Ln. 60, Wanfu Rd., Huatan Township, Changhua County, Taiwan
TEL:+886-4-737-0949 ADD:No. 218, Shuiyuetai Rd., Changhua City, Taiwan
TEL:+886-5-203-0666 ADD:No. 45, Neighborhood 15, Shinong Vil., Zhongpu Township, Chiayi County, Taiwan
TEL:+886-5-253-8505 ADD:No. 2-6, Neighborhood 4, Yanguan Vil., Zhongpu Township, Chiayi County, Taiwan
TEL:+886-6-690-1101 ADD:No. 178-1, Sankuaicuo, Dutou Vil., Guantian Dist., Tainan City, Taiwan
TEL:+886-89-571-002 ADD:No. 1, Pasture, Mingfeng Vil., Beinan Township, Taitung County, Taiwan
TEL:+886-7-651-4567 ADD:No. 198, Heshan Rd., Dashu Dist., Kaohsiung City, Taiwan
TEL:+886-7-696-1317 ADD:No. 302-96, Yonghua Rd., Luzhu Dist., Kaohsiung City, Taiwan
TEL:+886-8-783-1592 ADD:No. 8, Ln. 1, Yingqu Rd., Wanjin Vil., Wanluan Township, Pingtung County, Taiwan
TEL:+886-3-877-2666 ADD:No. 20, Yongfu St., Fenglin Township, Hualien County, Taiwan
TEL:+886-3-887-6611 ADD:No. 157, Neighborhood 6, Wuhe Vil., Ruisui Township, Hualien County 97842, Taiwan
TEL:+886-38-875-588 ADD:No. 230, Sec. 3, Zhongshan Rd., Ruisui Township, Hualien County, Taiwan